As a realtor, there may be a number of reasons you're hesitant to incorporate selling new construction homes into your personal business, opting instead to focus solely on resales.
It may seem superfluous, as clients are already dealing with the new home builder in Frisco and that can seem like a straightforward process. You also are unlikely to get your commission until after the client has closed on the house, which could take anywhere from several months to a year as you wait for the new home to be built.
However, new homes offer numerous benefits to prospective homeowners, which in turn creates an enticing market for you to capitalize on as a professional.
The Preferable Qualities of New Homes
There will always be prospective homeowners who are looking to move into a new home in Frisco as soon as they can, and they are satisfied with what already exists in the real estate market. Others, however, may be more particular when it comes to finding a home that is suitable for their lifestyle and desired living situation. That's where new homes have the upper hand.
Not only do new homes tend to be more energy efficient and higher quality, as they're built up to the most recent standards and codes as opposed to outdated provisions, but they also require less maintenance. Your buyers won't have to worry about spending ample time and money upon moving in to remodel the place or repair damaged features. Maintenance costs should be relatively low during the first several years.
Additionally, with new homes, buyers have the ability to select which Frisco community they want to reside in, as well as the optimal floorplan for their family from among the home builder's array of floorplan options. Home builders also allow prospective buyers to personalize various features throughout the home, including color schemes and certain materials, to satisfy their individual preferences and tastes.
Rather than restricting prospective home buyers and forcing them to choose from limited resale inventory, new construction opens up a world of possibility, especially as the real estate market continues to recover from the 2008 recession.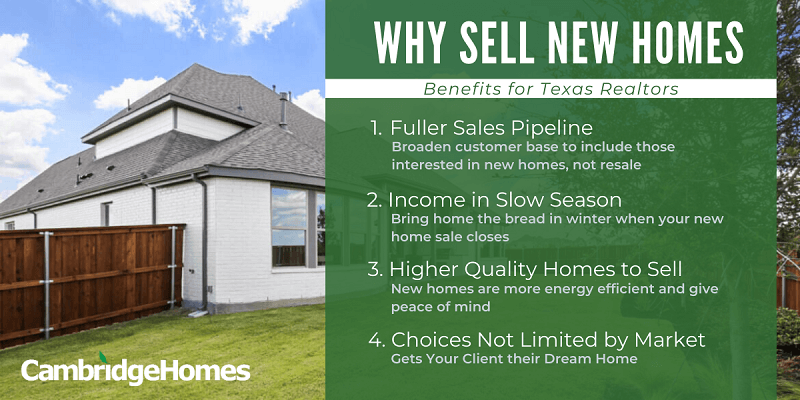 Tips on Selling New Construction Homes
You may have to re-evaluate your sales tactics and product positioning in order to sell new home builds, as purchasing from a builder is a different beast than buying resale homes. With the right marketing and understanding of the challenges ahead, though, you can tackle the art of working with both the buyer and builder to create a seamless process of selling new construction homes.
As a builder's agent, here are a few tips to keep in mind:
1. Educate Yourself on Selling New Construction Homes
Before you jump into the new home market, educate yourself on its unique features, from reading blueprints and understanding architectural design to popular construction methods and materials and the costs associated with building a new home. This esoteric knowledge will be useful in assisting your clients as they shop for new construction homes, as well as a valuable asset when it comes time to negotiate with the buyer. To aid in the learning process, you can speak with a realtor who has experience working with home builders or even shadow them so you can familiarize yourself with the construction process and get to know various home builders in the Frisco area.
2. Embrace Your Role in the Process
Some prospective home buyers are under the impression that while a realtor is necessary or useful when negotiating the sale of an existing home or property, they don't need one for purchasing a new build home. If you also adopt that mindset then it's understandable why you might be wary of getting yourself in the business of selling new construction homes. However, buyers similarly benefit from a realtor, or buyer's agent, in both scenarios. The buyer is making a large investment either way, and it's your job as the buyer's agent to ensure their best interests are protected.
Also, it is a misconception that home buyers who opt out of working with a buyer's agent are somehow saving themselves money. Builders anticipate paying commission to the buyer's agent. They figure it into their marketing budget and buyer will pay the cost one way or another.
Meanwhile, you can walk the buyer through the complex process and ensure no details of the sale are overlooked. If problems arise, you will have the knowledge and documentation to ensure they are addressed appropriately, which is beneficial for both the builder and the buyer.
3. Prepare Yourself for Negotiation
As a buyer's agent with extensive background in the art of buying and selling real estate, you understand that sales prices are often negotiable. Whereas the buyer may be unprepared or unable to take advantage of that leverage, you can use your skills and knowledge to negotiate on their behalf. Even if a builder is set on the home price, there are other perks – such as design upgrades or covering closing costs – that a builder may be willing to provide under the right circumstances. You also can help the buyer identify the best timing of the sale and seek out builder inventory that is sitting on the market and could provide a good deal.
4. Fill the Pipeline with Construction
You can also look at delayed commission in one of two ways: An inconvenience or a way to set yourself up so money keeps trickling in months down the road. If you are anticipating a slow season, having commission from new home construction coming in during that period won't be a negative thing. Rather, it can be a method of bolstering your long-term financial security.
Broadening Your Horizon and Selling New Homes
New construction homes offer enticing opportunities for buyers, which means they also are opportunities for you as a realtor. With the right marketing approach, you can assist buyers in getting into a new home that is better suited to their needs, tastes, and preferences than the resale properties on the market. With your help and a partnership with Cambridge Homes, your clients can have a satisfying experience buying a new home in Frisco.
Sources
"Learn to Sell New: Benefits." Beazer Homes, Youtube video. Accessed online at https://www.youtube.com/watch?v=XbYKrQivWVM
"Selling New Construction Homes: What New Agents Need to Know." Real Estate Express blog post. Accessed online at https://www.realestateexpress.com/career-hub/grow-your-real-estate-career/selling-new-construction-homes/
"Buying a New Construction? Why You Need Your Own Real Estate Agent." Realtor.com. Accessed online at https://www.realtor.com/advice/buy/should-you-go-it-alone-when-buying-from-home-builder/