The first significant choice facing prospective homeowners, besides where they want to live, is whether they prefer to build a new home or purchase an existing one.
When it comes to building a house in Texas, you have more power to create the home you have always desired, depending on the Frisco neighborhood where you will be living, the floor plan you choose, and other factors. When you build a new home in a designated builder community, you also gain access to the benefits of being under a homeowners association (HOA), which is a growing trend as of the past few years. In addition to enforcing maintenance and upkeep requirements to preserve the overall aesthetic of a neighborhood, HOAs also manage community amenities and host activities for residents that contribute to increasing their quality of life in Frisco.
The main question that comes to mind for most home seekers, however, is the price tag, or the price per square foot to build a house in Texas.
Related: Should You Move to Frisco, TX in 2020? and The Biggest Companies Hiring Right Now in Frisco, TX
How Much to Build a House in Texas?
When building a home, there are a few distinct areas where you should expect to incur various costs. Taking these into consideration can help you generate a better estimate for not only the project but also your future expenses as a homeowner. Here is a look at the different costs you should factor in if you're considering building a house in Texas.
1. Home Site Cost
The first cost to consider is purchasing property to be your new home site. The price per plot of land depends primarily on the specific location and size, as well as how much maintenance is required or if the land is ready to be built on. According to data from Zillow, home sites in the Frisco area range from $125,000 for a 9,757-square-foot lot (about a quarter acre ) to $2.1 million for a 2.6-acre site. In general, however, the average price for empty residential sites in Frisco hovers around $222,000.
More often than not, however, the cost of the land is incorporated into the price of your new home. One factor that is related to the site itself that could affect the overall cost of your new home is lot premiums. As the name applies, this is an amount added by the builder to the base price of the home, based on how attractive or desirable a lot is. For instance, the cost of building identical homes could vary if one is situated on a small lot that backs another home and the other is built on a piece of property that backs open space and has beautiful views. A home can be worth a lot more if it is built on premium property.
2. Home Cost
Secondly, you pay for construction of the house. Again, many factors affect the cost of the house, including the overall square feet, number of rooms and bathrooms, and other features. When you work with a homebuilder in Frisco, they will provide you with a variety of different house styles to choose from to pick the floor plan that suits your lifetyle, including modern, traditional/old-world, and original American designs. You can select the layout that appeals to your taste, fits in your budget, and meets your family's needs. Make sure you are prepared for your design center visit, so you can choose the features that your family needs.
In general, you can expect to pay anywhere from $300,000 to about $680,000 for a new home. That's a wide range, and it depends greatly on the size of the house. For a more accurate estimate, based on the size of the house you're hoping to build, it's good to keep in mind the general price per square foot to build a house in Texas ranges from about $130 to $190. If you personalize certain aspects of the home, you are likely to pay a bit more.
Certain selections available to buyers, though, can add comfort and convenience to your life without directly affecting the cost. For example, you can choose to add an oversized garage, which doesn't contribute to the price-per-square foot since it isn't conditioned space, but it is still an additional value to you as the buyer.
3. Homeowners Association Fees
When you move into a new neighborhood with a Homeowners Association (HOA), you can also expect to pay HOA fees. These fees vary by subdivisions, and even within some subdivisions, based on the amenities provided in the neighborhood, according to Trulia. For instance, a community with a golf course, country club, and/or expansive greenbelt space is likely to have higher HOA fees. If you are looking for a community with lower HOA fees, Majestic Gardens may be a good fit for you.
Annual HOA fees in the Dallas-Fort Worth vicinity, including Frisco, vary considerably. In many communities, though, you get your money's worth since homeowners associations offer a variety of useful services, including architectural controls, access to amenities, well-maintained common areas, opportunities for community engagement, rules that deter nuisance activity, and assistance to maintain property values.
4. Additional Homeowner Expenses
Property Taxes
Whether you buy a preowned house or build a new one, your expenses as a homeowner extend beyond the initial purchase or cost of construction. Over the years, you will incur other costs associated with owning a home in Frisco. To help you plan for your future, here is a look at other homeowner expenses:
Since property taxes in Texas are collected on a county level, and Frisco is split between Collin County and Denton County, your local property tax rates vary based on which county and school district you reside in. The Frisco tax rate, which is consistent throughout the entire city, is 0.46% of a home's total assessed value. At the time of this writing, the Collin County property tax rate is 0.235% and the Denton County property tax rate is 0.2722%. As for school districts, the Collin County Community College tax rate is 0.08196%; Frisco ISD is 1.46%; Prosper ISD is 1.67%; Lewisville ISD is 1.477%; and Little Elm ISD is 1.54%. As tax rates change periodically, it's always good to check with the city of Frisco to figure out exactly what your specific property tax rate will be once you move in.
Homeowners Insurance
Homeowners insurance is a worthwhile investment, but it does add an extra monthly or yearly expense. The average homeowners insurance rate in the Frisco area for a policy with $300,000 dwelling coverage, a $1,000 deductible, and $100,000 in liability protection is $1,781 per year, or about $148 per month. However, you can find homeowners insurance ranging from $1,146 to $2,910 per year. The rate you pay is affected not only by your property value, but also the deductibles, dwelling coverage, liability, and medical payments included.
Related reading: 10 Nearby Winter Getaways in the Dallas-Fort Worth Area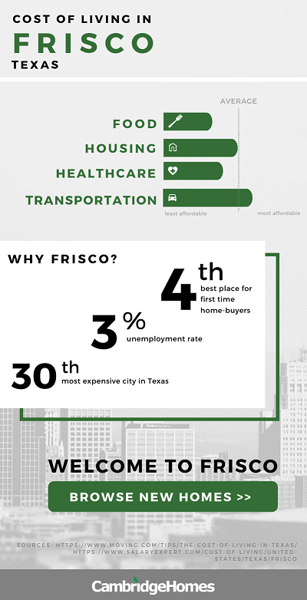 Cost of Living
Although not directly related to your physical house itself, the general cost of living in Frisco, Texas, is another financial consideration for those looking to build a new house in the area. Housing has the greatest impact on the cost of living in Frisco, driving it well above the national average. However, other elements that contribute to the cost of living – such as health expenses, goods and services, utilities, and food and grocery costs – are all below the national average. Transportation costs are slightly above the national average.
Residents have ample access to shopping, parks, schools, libraries, hospitals, and other attractions that enrich their quality of life and make settling down in the Frisco area a valuable option. Frisco is an affluent city steeped in a rich heritage and culture that fosters a strong sense of community while providing the numerous benefits of urban life. As part of the Dallas-Fort Worth metroplex, a slew of activities, attractions and amenities for all ages is at your fingertips.
Once you understand the costs associated with building in Frisco, learn about what the process looks like.
Building a New House in Frisco
Building a new house is a big undertaking, especially considering the financial investment. One benefit of going through a respected homebuilder in Frisco to field your questions and construct your new home is they can help you select the right layout and design from their portfolio to fit your budget and your lifestyle. At Cambridge Homes, our Prairie View and Majestic Gardens communities are designed to make the process of building a new home and moving in seamless, comfortable and affordable.
Sources:
"Frisco Texas Land for Sale." Zillow search. Accessed online at https://www.zillow.com/frisco-tx/land/
https://www.trulia.com/voices/Home_Buying/What_are_the_average_HOA_fees_in_the_zip_code_-266525
"What are the average HOA fees in the 75063 zip code?" Trulia. Accessed online at https://www.trulia.com/voices/Home_Buying/What_are_the_average_HOA_fees_in_the_zip_code_-266525
"Top 10 Benefits of Living in an HOA." Associated Asset Management blog post. Accessed online at https://www.associatedasset.com/hoa-resources/hoa-tips-blog/2019/6/28/top-10-benefits-of-living-in-an-hoa/
"Frisco Property Taxes." Frisco.com. Accessed online at https://www.frisco.com/propertytax/
"Texas homeowners insurance." Insurance.com. Accessed online at https://www.insurance.com/home-and-renters-insurance/coverage/texas-homeowners-insurance