Once you've decided to build a new home, it's time to put that plan in motion. One of the initial phases of the home building process includes nailing down the style of home you desire and discussing specifics with experiences and trusted designers at the design center.
Home builders in Frisco want to help you create the home you've always dreamed of, and that's part of the purpose of the builder design center. Your design center visits are meant to be an opportunity for the design consultant to walk you through the home builder's entire interior finish package and guide you through choosing the right personal touches for your home and budget.
In order for these meetings to be as fruitful and time-efficient as possible, however, it's important to prepare and go into them with the right expectations.
New Home Design Center Checklist
Design center visits should be empowering, supporting you as the new homeowner in making decisions to achieve a clear vision for the project. In order to mitigate frustration and confusion, though, it is helpful for you to be prepared for what's to come. As you get ready for your visit with Cambridge Homes, here are a few new home design center tips to keep in mind:
☑️ Check Out the Online Gallery
Cambridge Homes's website hosts an extensive gallery of photos that can give you a better picture of the types of homes we build, including our different floor plans and home styles. You can use the gallery for inspiration about all aspects of the home, from the exterior and outdoor living spaces to the living room, kitchen, and bathrooms. Relying on the gallery as your source of visual concepts is helpful, because not every product you see in a magazine or model is an available option. Cambridge Homes's design consultant will help you personalize your home. The photos in the gallery all depict projects completed by Cambridge Homes, so you can get a sense of your personalization options.
☑️ Avoid Houzz
Houzz is promoted as "a new way to design your home," as it gives you the opportunity to browse millions of photos to get decorating, interior design, landscaping, and architecture ideas. While Houzz and similar websites can be fun to browse, it's important to keep in mind that the personal touches you see in the photos may not be part of your home builder's selection. Rather than focusing on new home construction ideas that aren't accessible and setting yourself up for disappointment, it is better to develop your home wish list around what you know is offered.
☑️ Focus on General Styles
That being said, no matter which photos you're using for inspiration, don't get too caught up on specifics. There are ways you can customize your floor plan to your lifestyle, but chances are, you won't be replicating every single detail when it comes time to build your new home. The design center visit is when you will hash out particulars, so in preparation for the meeting, you should be generating general ideas about the styles, colors, and overall "feel" you hope to create. The home builder team will then walk you through the best way to achieve your vision.
☑️ Experiment with the Sherwin-Williams Color Visualizer
One area where you have plenty of latitude is your color scheme. Sherwin-Williams offers a variety of digital tools to help you explore paint projects and color ideas and trends. Their online color visualizer allows you to upload a photo and then drag and drop various colors or use a brush to paint the scene, so you can get a better idea of how your color ideas look when applied to a room. Sherwin-Williams' ColorSnap Visualizer app for iPhones and Androids allows you to capture colors from your surroundings and then matches them to actual paint colors.
Related Reading: 10 Tips for Winterizing Your Home in Texas
Visiting the New Home Design Center
Once you've done your prep work, you're ready to visit the builder design center. Typically, you will have two meetings with the team. Here is what you can expect to take away from each one:
Meeting 1: Picking Selections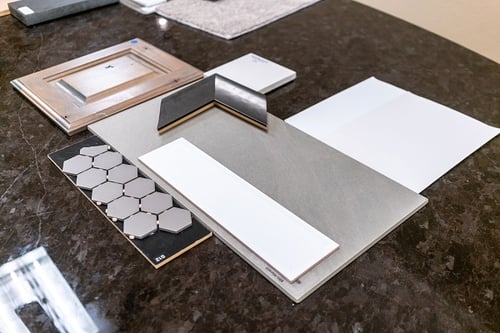 Your first meeting is meant to turn your mind from square footage to color, style, and texture – or the components that comprise the "feel" of your home. You and the consultant will take several hours to discuss the ways in which you want to personalize your new home and each room with various house amenities. They can share with you the items and options that are available, some of which may have crossed your mind but also some of which you might not have thought to consider.
As the design center team walks you through each room, they will discuss the atmosphere you wish to create. For instance, do you envision a kitchen that's full of warmth or light and bright? From there, they nail down the specifics with you, such as which stains and paints your prefer on cabinets, the type of backsplash and countertops that will match your selected color scheme, and whether you want glass inserts in some of the upper cabinets.
For the bathroom, you will similarly begin to consider cabinets, flooring and countertops in relation to color and feel. You can decide the color tones you want for the tile on the floor and the shower walls. As far as flooring throughout the other main areas of your home, you can consider tile, hardwood, carpet and luxury vinyl and, using the specific floor plan you've chosen, decide which areas you would like to use each flooring.
Related reading: The Biggest Companies Hiring Right Now in Frisco, TX
Meeting 2: Following Up
Your second design center visit will be shorter and simpler, as you've already gotten the more challenging decision-making out of the way. During the follow-up conversation, you will go over pricing for specific options in your design plan and review the selections you've made.
After the second meeting, you should avoid making changes to your plan, as you will likely be charged a fee. Additionally, changes can cost time and hinder progress on your new home construction. Use the follow-up meeting to ensure you are confident with your selections before signing documents confirming the design plan with the builder. Overall, you can typically expect the second meeting to take about an hour.
Building a Personalized Home
Your builder design center visit is meant to be enjoyable and fulfilling, as it's the time to start personalizing your new house so it will feel like home when all is said and done. Going into your meetings with the right mindset and expectations will help both meetings to be fun and empowering experiences. Cambridge Homes can also provide you with a list of questions ahead of time to give you a better idea of what you should be considering and help drive your conversation with the consultant.